Custom Finishes
Mr. & Mrs. Howard for Sherrill Furniture offers many finish options that make it easy to customize your furniture and your home. Create a unique look by mixing finish combinations. The opportunities are limited only by your imagination.
We offer a variety of finishes varying in application time and difficulty. The complexity of the finish is reflected in the terms Standard, Premium and Artisan.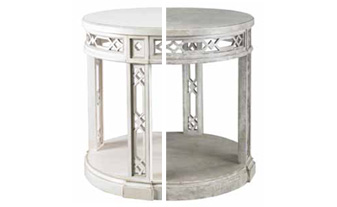 MH10324
Pierced Fretwork Round Table
shown left in #34 washed linen with #21 light
dove stripe and shown right in #19 greige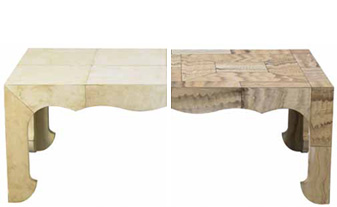 MH10314
Paris Cocktail Table
shown left in #22 light cream vellum and
shown right in #14 palisander
Mr. & Mrs. Howard for Sherrill Furniture uses the highest quality materials in all of its products. Finishes are not guaranteed to be a perfect match as each piece is finished by our Artisans' hands. Wood, like all natural materials, has inherent disparities in color and grain pattern. There will be variation in color, texture and shading. Every finish was created for a specific wood species. Variation will occur when a finish is used on a different wood species and can change the overall look of the finish. We strive to provide an accurate representation of all finishes on our website, but due to changes in lighting, types of monitors, and photography limitations, color variation is possible.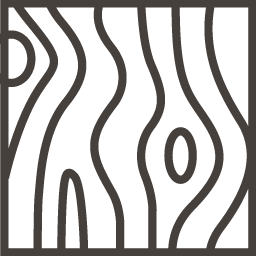 Caring for Finished Wood Products